On June 7th, 2018 was held the grand opening of the first Major Exhibition Dedicated to Israeli Fashion in the Israel Museum in Jerusalem. We, the fashion activists, are thriving for this kind of exhibitions in Israel and therefore the opening night was filled with fashion gurus, designers and influences walking around with excitement experiencing the pioneering presentation on the origins of Israel's globally-trendsetting fashion design.
The curators illustrate a large scale-exhibition in the broad scope of fashion in Israel from its deep historical roots to contemporary collections. They chose to divide the fashion narrative into four main themes, thus in that way catalyzing deeper understanding of Israel's fashion legacy and extending our commitment to providing a platform for the country's breadth of creative expression by creating a provoking dialogue about tradition and modernity, myth and reality and conflicting ideologies.
"Fashion Statement" explores fashion design from the late 19thcentury indigenous pre-Zionist "fashion," through the opposing forces of Europeanism and Orientalism. These designs converged in the early decades of the state, from the phenomena of such leading industries and fashion houses as Gottex, Maskit and Rojy Ben-Joseph, to contemporary leading fashion designers with a global following.
Holy/Land – Israel's landscape and history serves as a shared source of inspiration for the many communities that coexist in the country. This section explores sartorial traditions from around the globe, showcasing the rich variety of local fashion, ranging from form-fitting European styles to wide and flowing Middle Eastern fashions. The outfits on view represent a variety of materials and meanings; they can be made out of the wool of local sheep or from silk imported from exotic lands; their colors run the gamut from soft desert hues to the vibrant tones of Central Asia; and while some emphasize national roots, others reflect personal stories that originate far away from Israel.
The Kaffiyeh is charged with national and political meaning and story of its integration into, and the rejection from local fashion. reflects the evolution of the relations between Jews and Arabs in Israel.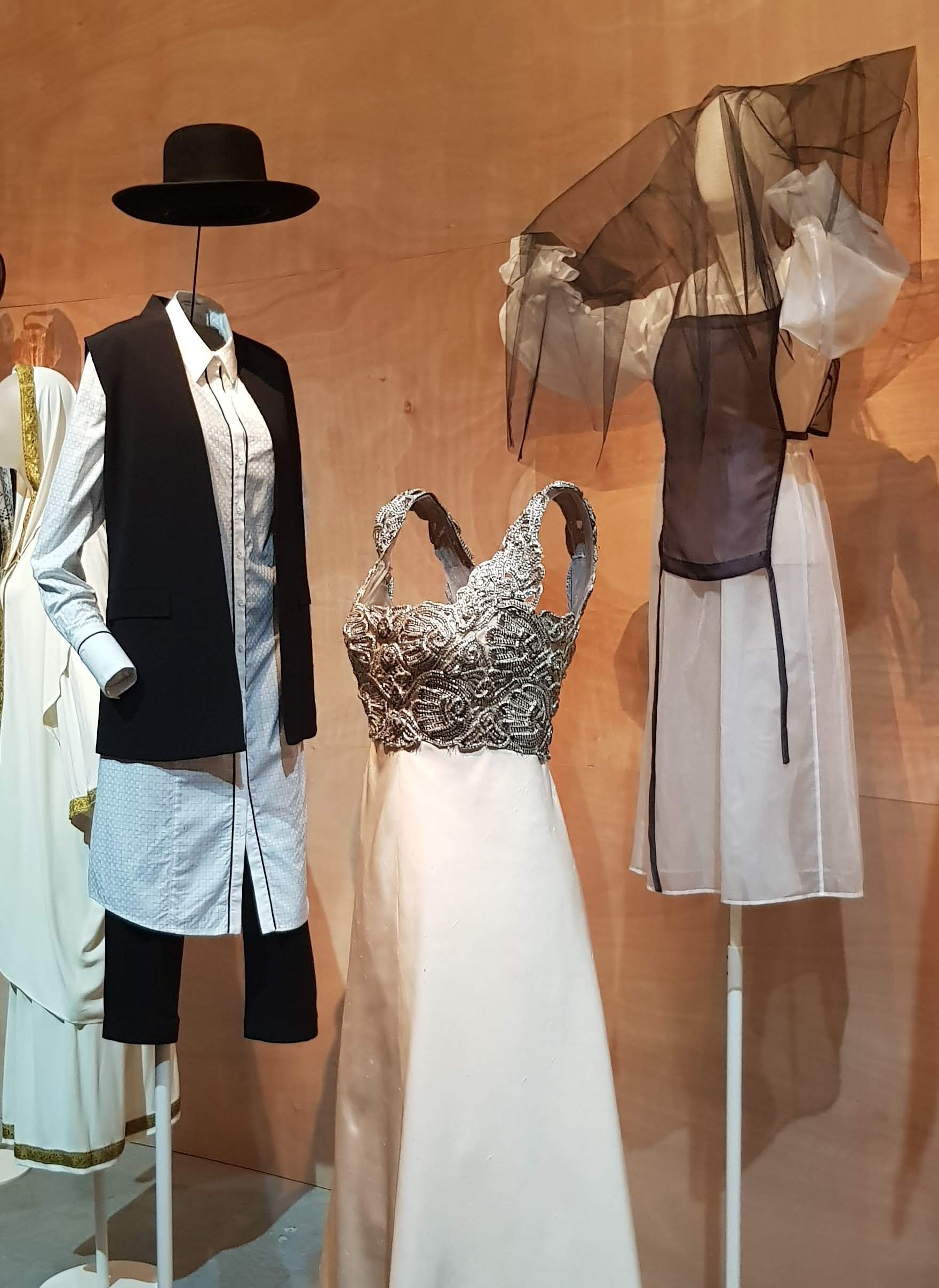 This place, which is sacred to the three monotheistic religions, has served as a constant source of inspiration for local fashion - from the use of colors, ornaments and symbols associated with religion, through a vibrant dialogue with the charateristics of religious fress and all the way to designs that smack of heresy.
Austerity/Prosperity - the garments on display represent two sets of aesthetic ideals that differ with respect to design, manufacturing, marketing, and message. They derive from two opposing ideologies that coexisted in the early decades of the State – Socialism and Liberalism. ATA's utilitarian and monochromatic clothes, mass-produced and blurring differences of class and gender, represented socialist values. In contrast, urban wear retained the European style of couture and tailoring. Both approaches were rooted in Europe, drawing their ideas from Proletarian movements on the one hand and from the global fashion capitals on the other.
Made in Israel - this section showcases the two facets of the "made-in-Israel" brand: the fashion industry and independent fashion designers. Established in the 1930s, the Israeli fashion industry flourished to global acclaim in the 1960s and 1970s. Labels such as Gottex, Beged Or, and Polgat were known worldwide, and the clothes they produced were worn by such style icons as Jackie Kennedy Onassis and Sophia Loren. Extensive support from the government enabled hundreds of fashion houses to open and led to the establishment of Israel's Fashion Week in 1965 by the Export Institute, which aimed to transform Tel Aviv into a fashion capital that would draw professional buyers from all over the world.
Fashion now - In 1983, Riki Ben-Ari, who has been called the "Oracle of fashion," predicted the revolution that would take place in the local fashion world, from mass-produced confection collections to signature designer creations. And indeed, the rules of the game have changed. The challenges faced by the industry today are multiple and include a lack of raw materials and skilled manpower, tough competition, and a small market in international terms. Yet at the same time designers have at their disposal a whole new range of tools. Many of them improvise, improving or producing new and unique materials. There are also innovative ways of reaching new markets. Each one of the designers whose work is shown in this section illuminates a different aspect of today's fashion industry in Israel, presenting a complex view of the relationship between local and global identity. They move between the poles of handicraft and cutting-edge technology, and some stretch the notion of material to its very limits. At times the garment serves as a canvas for social ideals, and at others it goes all the way from its original utilitarian purpose to being a true work of art.
While the exhibition featured over 150 outfits and included religious and national symbolism with inspiration drawn from Israel's landscapes and influence of encounters with a diverse range of traditional dress, both Jewish and Arab - I was happy to see more samples stories and samples from the current vivid industry that is raising and shaping its identity again, as well including some co-existence stories that are so important for the narrative of the middle east.
For any visitor, this exhibition was eye opening and shared a beautiful journey in our short but special story of the Israeli fashion industry. After this visit I welcome you to join one of my tours to deepen the conversation through private experiences in the designers studios and working spaces.
Curators: Noga Eliash-Zalmanovich, Associate Curator, Stella Fischbach Department of Modern Art; Efrat Assaf-Shapira, Associate Curator in the Jack, Joseph, and Morton Mandel Wing for Jewish Art and Life; Curator-in-charge Daisy Raccah-Djivre, Chief Curator, the Jack, Joseph, and Morton Mandel Wing for Jewish Art and Life; and exhibition initiator and adviser Tamara Yovel-Jones, a leading fashion designer and educator in Israel.